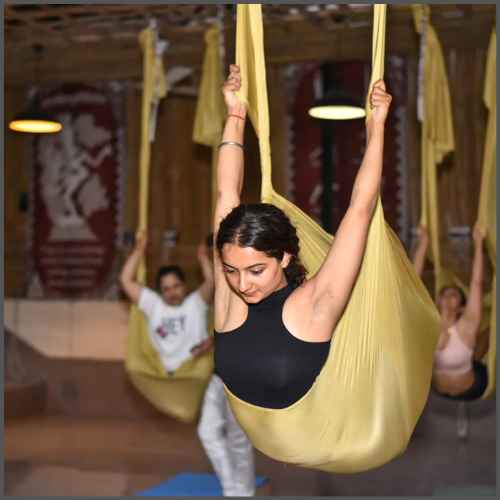 Welcome To YTT India - Best Aerial Yoga School in Rishikesh
Aerial Yoga Teacher Training in India
You just must cover your yoga. If your response is yes, Aerial Yoga Teacher Training India is exactly what you should do. The majority of people can participate in aerial yoga TTC with few to no difficulties. Aerial Yoga Training is an exceptional workout that combines cardiovascular and weight training component to be able to supply you with a full-body weight workout. Take a look below to find out what it is all about.
Read More
---
Style of yoga taught in Our Aerial Yoga Course:
YTT India offering 50 Hour Aerial Yoga TTC and 100 Hour Aerial Yoga Teacher Training in Rishikesh which include Aerial Hatha, Aerial Vinyasa, Aerial Restorative Therpeutic, Yin Aerial, Partner Aerial, Aerial Meditation, Aerial Dance etc. In this Aerial Yoga Certification, you will learn from basic to advance aerial yoga forms with our experienced Yoga Instructor. After completing your Aerial Yoga course you'll get Yoga Alliance USA certified yoga TTC certification. We also offer multi-style yoga TTC which includes aerial, hatha, yin, vinyasa yoga in our 200 Hour Yoga TTC, 300 Hour Yoga TTC and 500 Hour Yoga TTC in Rishikesh India.
Our Aerial Yoga classes concentrate on breath, meditation and plenty of fun! The Yoga classes also incorporate a good deal of resistance Teacher Training training & endurance also. Yes, with a fantastic Yoga instructor, you will be in a position to choose the method in your very first Aerial Yoga class and practice it successfully. You can find all the Yoga Training Courses module details with date and timing below.
AERIAL YOGA: Practice your yoga with a support of a silky hammock. Let the hammock guide you into your poses or take you into deeper stretch. Whether you are a brand new yoga practitioner or a seasoned yogini, aerial yoga is an experience on its own. Unbelievable, one of a kind practice taking over the yoga world by storm. Cape Cod's first and only. Reserve your spot and arrive at least 10 minutes early for this class. Warning: once you start flying, you might never want to get back on the mat:)
Introduction Of Aerial Yoga: Introduction to aerial yoga. No yoga or aerial arts experience necessary. Participants are introduced to the ways to get into and out of the fabric, to ways the fabric can assist in basic stretches, and a couple of Aerial Yoga poses are introduced. The class culminates in the basic inversion in the hammock to those who want to participate. Each class ends in "cocooning" - participants rest their whole body in the silky hammock and are lead through savasana/ relaxation while gently swaying in the air.
Restorative Aerial Yoga: Hammock is set low to the ground. No inversions, flips or tricks. You will be guided into a hammock-assisted-pose and stay in it for 1-3 minutes before slowly transitioning into the next pose. Breathing and relaxation techniques will be provided, the music is quiet and gentle. You will leave relaxed, calm and your muscles and joints will feel regenerated and stretched. It is a very gentle practice appropriate for every level of ability and any age. As long as you can get yourself down to the mat, you can do restorative aerial yoga. No yoga or aerial art knowledge is necessary.
Aerial Yoga Flips and Tricks: More advanced Aerial Yoga practice where we explore some of the most fun and more challenging poses. This class is meant to unleash your inner child - probably the one that used to swing on the monkey bars and climb trees. Bring some yoga, aerial yoga, aerial dance, gymnastics, or acrobatics experience with you. We will warm up quickly and get right to it! You will be sure to have a big grin on your face during the hammock Savasana at the end.
Aerial Vinyasa: Intermittent level aerial yoga flow. Some yoga and Aerial Yoga experience is needed here (we recommend you taking at least one of "Intro to Aerial Yoga" class and a minimum of one "Intro to Aerial Vinyasa" class first to be able to truly benefit from and enjoy this class). Aerial Yoga poses are sequenced into a graceful flow that starts with a slow simple sequence that builds up creating heat and increasing strength and flexibility. We will be flying, we will be flipping, we will have a blast :) Class ends with "cocooning" Shavasana.